Ceravolo Ross Null Lens for Mirror Testing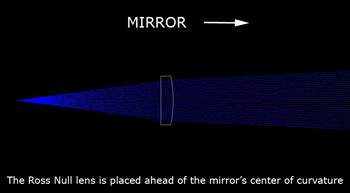 The Ceravolo Ross null lens is recommended for mirrors up to 20" diameter. Up to this size an f/4 mirror can be tested to 1/20th wave surface quality. Larger mirrors can be tested as long as they are slower than f/4, for example a 30" f/5 Newtonian primary.

Determining the required null lens, mirror spacings for your set up has been made easy by the efforts of Douglas George of
Over ten years ago Doug wrote a small program that calculated the spacings required for the Ross null test. Recently, updated the old DOS software so it will run reliably in the Windows XP Operating System.

Download the free . Many thanks to Doug and James for providing this service to the community!

In order to test telescope primary mirrors at the center of curvature with an interferometer, a null test must be used. The Ross null lens is ideal for the application as it avoids the expense of a large optical flat.
(More)