Hamilton Telescope Design
This 300mm diameter f/1.66 prime focus astrograph is an adaptation of the
catadioptric system invented in 1814 by .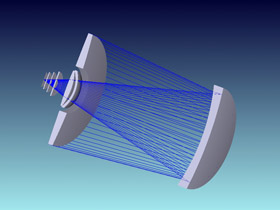 The design illustrated here features an accessible and well corrected 40mm diameter focal plane. Because the astrograph was designed for CCD imaging, and because of the astrograph's extreme speed, the aberrations induced by camera windows and filters were compensated for within the the optical system as a whole. Special attention was paid to ghost images caused by spurious reflections between the field correctors and the CCD.

The second surface primary "mirror/lens" lends itself nicely to designs that require extreme speed and high performance. However, because astronomical instruments are subject to large temperature extremes, and because the second surface primary mirror is much more sensitive to temperature gradients, a careful system thermal analysis should be carried out to ensure the design's performance is stable. Splitting the primary mirror from the meniscus lens is one possible way to reduce thermal sensitivity.

The Hamilton catadioptric reflector concept is the basis for many modern optical systems, unfortunately Hamilton's ground breaking work is largely forgotten and rarely credited. A master optical designer once mentioned that optical systems are re-invented every few generations.