Wide Field Cassegrain Telescope
This article presented at
Society for Astronomical Sciences 2011.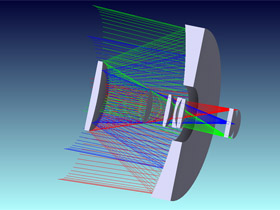 Abstract
Of all the conventional astronomical telescope designs used in amateur astronomy, the Cassegrain is the least likely to be considered a candidate for wide field imaging applications. This perception is a hangover from the era of visual observing where minimizing the central obscuration was critical to preserving image fidelity. The resulting long focal length, slow telescopes did not lend themselves to photography. This article illustrates the use of an internal aperture stop in a high speed, wide field Cassegrain optical system. The astrograph features a well corrected and uniformly illuminated focal plane. Opto-mechanical design and manufacturing issues are also discussed.